From your dorm room, it may seem daunting to engage in positive social change for the greater Philadelphia area, but opportunities to get involved are everywhere, and there are individuals doing it every day for their careers! If you're looking for a place to start, you can learn more about the opportunities available in Philly at Campus Philly's final Launch Event, Engage Philly, at the 1900 Market Street location of WeWork on November 13. Sign up here! 
Build a career that creates positive change in the community. To show you some examples of work that makes an impact in Philadelphia, we've highlighted some of our role models leading the Philly charge towards improving the quality of life for all its residents.
Councilwoman Jannie Blackwell
– City Council
Councilwoman Blackwell at Campus Philly's CollegeFest, September 2018
Blackwell's dedication to improving the lives of the underprivileged in Philadelphia shows throughout her six terms in office. As the chair of the Committee of Housing, Neighborhood Development, and Homelessness, Blackwell's work in Philly is responsible for over 1000 new homes available to rent or own at an affordable price. She's also the Chair of the Education Committee! Her economic development plan has culminated on over 3 million dollars for affordable housing and job development. Her work is inspiring social development in the city, giving underprivileged citizens the chance to put a roof over their heads and take steps forward in their lives.
Politics will play a critical role our city's future, and every elected position will have the opportunity to directly impact social change.  The political system is going to need young. educated voices to engage in the community and curate Philly's future, so look into where you can make a difference, just how Jannie Blackwell has.
Chekemma J. Fulmore-Townsend
– Philadelphia Youth Network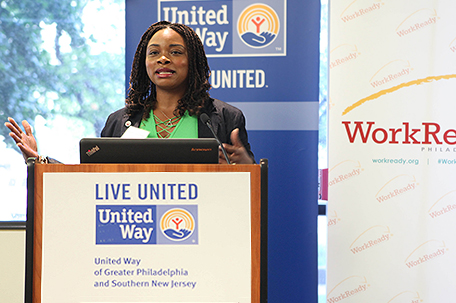 Chekemma speaks to the audience at 2017's WorkReady Philadelphia
The Philadelphia Youth Network (PYN) has been providing resources for young adults in Philadelphia since 1999, and at the head is President Chekemma J. Fulmore-Townsend. She leads the organization, which has served over 160,000 young people in Philly, through providing access to education and professional development opportunism. Fulmore-Townsend is a key component in the march forward to end poverty. Through her work at Philadelphia Youth Network, she works to construct systems to create change, while innovating to meet evolving needs. PYN aims to change the trajectory of individuals' lives by giving voice to underserved youth, and ultimately create a pipeline for an educated, engaged workforce.
Organizations like The Philadelphia Youth Network are able to make a profound impact on the Philly community because of the people who run them. Every position within these organizations plays a crucial part in creating special opportunities for those who need it most that can change their lives and improve the quality of life in Philadelphia.
Hillary Kane
– PHENND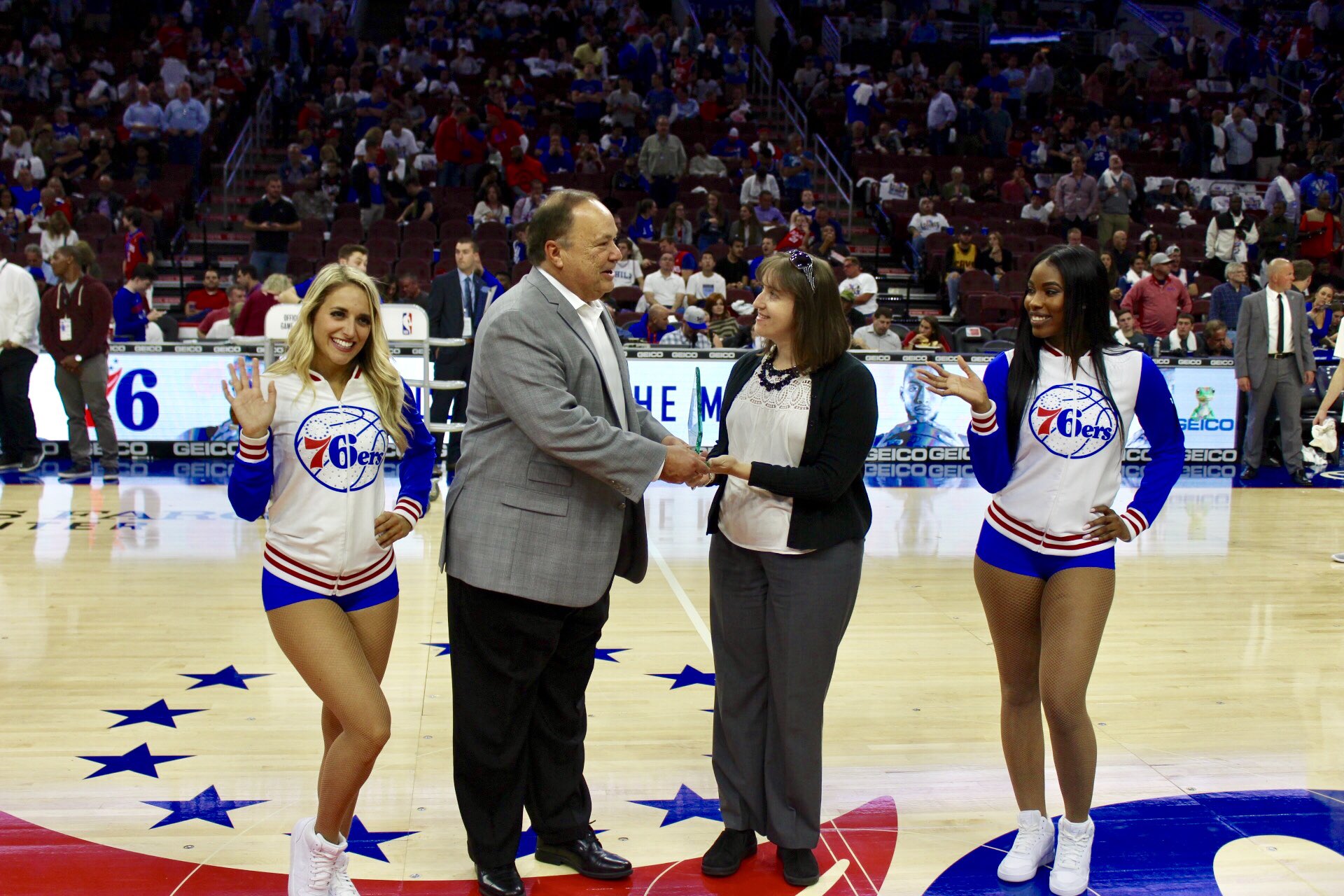 Hillary is awarded the 2017 Game Changer Award at a Sixers game.
The resources to make a difference are already right here in Philadelphia, and sometimes they just need the right person at the helm to strategize how best to utilize these resources. That's exactly what Hillary Kane, Director of PHENND, is doing. The Philadelphia Higher Education Network for Neighborhood Development operates with the mission of partnering with and coordinating the joint potential of higher education institutions around Philly to improve the entire region.
If you've ever craved the opportunity to improve the world around you, you CAN make your vision a reality with the right network of resources. Organizations like PHENND offer careers in curating the resources available in Philadelphia into a force that makes an impact, improving the region as a united front.
Want to learn how you can create social change in Philly and find work that matters? REGISTER NOW for Engage Philly on November 13. Registration is FREE, and the night will feature a panel on positive social change, complimentary food provided by Sweetgreen and Honeygrow, and a networking event so that you can make connections with our panelists, attending networkers, and like-minded peers looking to make a difference, just like you.
Recruiting companies in attendance will include: Comcast, Merakey, Bender, PHMC, CHOP, Energage, The Reflect Organization, Philly Startup Leaders, and more!