Sammy Chmara is a senior at the
University of Delaware
, and it was not until her junior year that she realized which career field she was passionate about. Sammy gave us some insight into her journey—from her path of becoming an intern to some tips for how YOU can also solidify your career plans, and more!
Guest-written by Sammy Chmara
If someone were to ask me during my freshman year where I wanted to intern in the future, I would not have had an answer for them. It wasn't until my junior year that I started really focusing on my career goals and deciding which field I wanted to pursue. After sitting in multiple Communications courses at the University of Delaware, joining my university's Public Relations Student Society of America (PRSSA) chapter, and doing some LinkedIn networking, it became clear: Social Media and Communications was the only path for me. 
As a college junior, becoming more familiar with the ins and outs of social media marketing, I realized something important about myself: I am someone who is creative digitally, but not artistically. I enjoy creating content for my own social media accounts and enjoy engaging with others through social platforms. I often found myself looking through different brands' social media accounts, from TikTok to Instagram to Facebook, and I felt so excited knowing that Social Media and Communications was the path for me. I became more eager and passionate to find opportunities where I could learn more about these fields and gain hands-on experience. 
Having a clear direction and focus on social media marketing and communications, I started to research potential companies and organizations near the University of Delaware that were seeking social media student interns for winter break. After applying to around 10 companies and not hearing back, one of my friends reached out to me with some really helpful information: She had interned at the athletics stadium during the fall semester, and said they were looking for interns to help with social media coverage of basketball games during winter. I immediately reached out to the Director of Athletic Communications and, after an interview, he offered me my very first internship!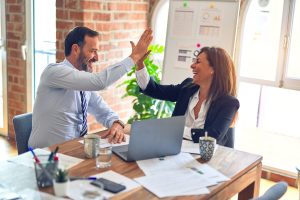 I did not have a lot of experience or knowledge in sports, but I didn't let that hold me back. Before arriving at the first game, I was feeling slightly nervous and intimated. Interning in such a fast-paced environment that was totally new for me was definitely overwhelming at first. However, as each game went on, I started to feel more and more comfortable.
For each basketball game, I was responsible for capturing game and player highlights and making sure that they were posted
immediately
to the team's Instagram accounts while tagging the correct players. At the time, it did not feel like an important responsibility, but
looking back
I realize that the smaller internship projects—
like coordinating social media posts, at the perfect time to yield maximum engagement with the team's followers—
are really the stepping stones for future opportunities
.
This internship gave me the experience of what it's like to work in social media in a high-pressure environment, like sporting events. By working alongside the entire digital media team, I learned the importance of teamwork and using my communication skills. 
Fast forward to today, my senior year of college, and I can happily say how much more prepared I feel entering the Communications workforce due to all of the opportunities I've found after that first internship. I always hear people say, "in order to get an internship, you need to have an internship" and I can honestly say this holds true. Now as I begin to apply to entry-level roles after graduation this spring, I've realized that employers really want to know more about the professional and extracurricular experiences on my resume. These experiences are integral to helping recruiters determine if you would be a good fit. 
So, where to start? Get involved while you're in college in
any
way that you can.
You might find an opportunity that isn't the most glamorous or exciting, but take it anyway
,
because that first internship will teach you so much.
Start by researching academic clubs or organizations on campus that seem interesting to you. Try joining one or two, because they will teach you a lot and can make a great addition to your resume. Be sure to include experience descriptions that showcase any skills or industry knowledge that you gained.
Once you have your resume, it is time to start applying. I used
Handshake,
which is a site that connects students on college campuses with open positions. I recommend taking advantage of the Handshake account your university gives you because they have tons of internship positions needing to be filled.
Once you apply for an internship, make sure that you follow up with someone from the company.
Employers like to see that you are trying to make those personal connections with them and that you are eager to learn more about the company and the role. 
To any student who is currently seeking an internship in Communications: Put yourself out there as much as you possibly can. Opportunities rarely just come to you. It is important that you research the types of companies you would be interested in working for, and reach out to them directly. The company will be impressed with how proactive and driven you are, and you have nothing to lose—if anything,
you'll gain a new connection; someone who might reach out when there's a good fit for you in the future
.
Networking, even virtually, is so helpful, and when you apply to enough places, send enough emails, and do enough research, I promise you will find that first internship opportunity that will help you grow and learn so much!
***
Do you have content that you want to share? Apply here to join our Campus Philly Brand Ambassador Program—applications are open on a rolling basis!
Plus, stay up-to-date on all things Philly with Campus Philly's Instagram and Twitter; you'll never miss an announcement of a new For Students, By Students post.