We all know that Campus Philly loves a good treat, and recently we got the opportunity to chat with two entrepreneurs in the Philly food industry on their latest collaboration: French Toast Bites Coffee!
Charisse McGill, Owner and Producer of Lokal Artisan Foods, home of the French Toast Bites, and Jonathan Pastore, Vice President of Operations at Bean2Bean Coffee gave us an inside peek of what it means to be an entrepreneur during this time, and what inspired the creation of the French Toast Bites Coffee.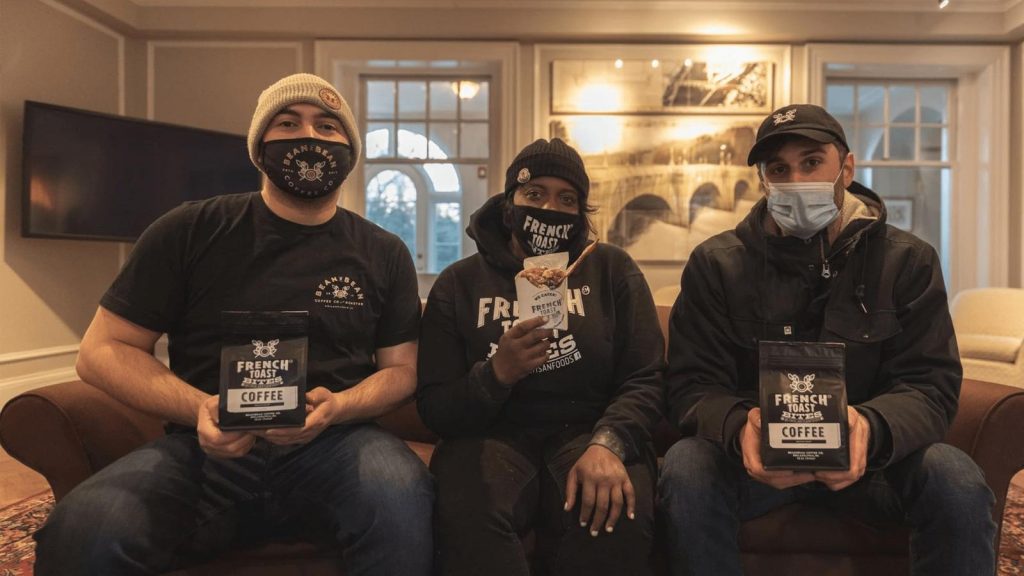 You've seen Charisse before on our Campus Philly Conversations. Her introduction into the local food industry was in 2013, by way of the Lansdale Farmers' Market, where she served as the Market Manager for seven seasons. During that time she grew the market to be second largest in the Philadelphia area and had the unique opportunity to work with local independent food producers up close. The experience led Charisse to build Lokal Artisan Foods.
On November 15, 2018, Charisse resigned from her day job and two days later opened her French Toast Bites stand in the middle of Philadelphia. In the first 45 days, McGill grossed three-fourths of her former annual salary. That immediate success set the trajectory for the new business. In just two years, she has opened three semi-perm seasonal retail locations, brought her signature and trademarked spice blend to market, and has participated in over 180 days of events.
On July 17, 2020 Charisse became the first Black woman to own and operate a food establishment in Spruce Street Harbor Park. She's also the first Black woman in the state of Pennsylvania to produce her own craft beer through a collaboration with Doylestown Brewing Company, which was released in the fall of 2020.
McGill earned a Bachelor of Science from Temple University's School of Sport, Tourism and Hospitality Management in 2003 and is now enrolled in the MBA Food Marketing program at Saint Joseph's University with an anticipated graduation date in May 2021.
Jonathan Pastore sits as the VP of Operations, and is one of the owners of Bean2Bean Coffee Co. He began his career in the coffee biz in 2016, and has been instrumental in the ground-up growth of this local, family-owned business ever since.
As a graduate from Saint Joseph's University, Jonathan put his marketing degree right to work, starting out in print/digital radio advertising, then working in design, and ultimately executing the digital marketing strategies that define Bean2Bean. Most recently, Jonathan developed a direct mail campaign through traditional hand-delivered letters and postcards to give the brand a unique edge.
In 2018, he became the youngest owner of Bean2Bean Coffee at just 28 years old. He's established Bean2Bean in Philadelphia, New York, much of the East Coast, and recently LA. No investors. No banks. No warehouse, at the time. Straight up 'started from the bottom now we here.' Jonathan is proud to be building a destination for coffee education and entertainment.
Check out Charisse & Johnathan's story and learn more about their brands below.
COVID has hit the restaurant and hospitality industry hard, but you both have pivoted to not only adapt your business models, but thrive. Was it hard work, luck, or a little of both?
Charisse: The single most important thing I learned over the past 10 months is "relationships are more valuable than money." Additionally, it's all really textbook: 1) Respond to a changing marketplace, 2) Build strategic partnerships, 3) Maintain brand identity.
Jonathan: I really don't think last year had anything to do with luck; we had to put in a lot of hard work and alter our business model, almost completely. It was us putting our pride aside, hitting the pavement, putting in the hours, and hand-delivering letters to every mailbox in Philly. We learned how to use our resources differently, and pivoted only having wholesale accounts to offering free next-day delivery to every neighborhood in Philly.
How did Lokal Artisan Foods and Bean2Bean meet, and how did you decide to collaborate?
Charisse: LAF and B2B paths crossed, just being in the same independent food producer space in Philly, but it wasn't formal until I reached out to Jonathan for a coffee opportunity at South Philly Food Co-op. B2B and the South Philly Food Co-op didn't connect unfortunately, but that's where our relationship blossomed. I was telling Jonathan about the beer and that conversation led to a coffee collab…that was in November 2020 and now here we are!
Jonathan: We met at Dream Walk Fashion Show hosted by Lexi Scaffidi. French Toast Bites had a booth there, and we just happened to be next to them. I didn't always see how we could do something together, but our paths crossed again when we met at the South Philly Food Co-op. When Charisse pitched us her idea for a French Toast Bites coffee, we couldn't say no.
Tell us about your career journey in Philly—did you always know you wanted to start your own business, or did you think you'd end up doing something different?
Charisse: I am from Pittsburgh, PA and came to Philadelphia in 1999 to attend Temple University and I never looked back.
While in Philadelphia, I've held many positions. I've worked with Philadelphia 76ers, Philadelphia Phillies, Atlantic 10 Conference, Rutgers-Camden, Lansdale Farmers' Market, Culinary Arts Institute at Montgomery County Community College, Valley Forge Military Academy & College, and all of these experiences simultaneously led me to full-time entrepreneurship.
Jonathan: I wanted to own my own business my entire life. I started my own cab service when I was at Saint Joes being the DD for college kids who needed a ride home. I was working at Tony Roni's throughout my time in college, then landed my first full-time job at a Career Fair at SJU. After a year, I went back to Tony Roni's as Director of Marketing doing radio ads, billboards, planning events with the Phillies and Eagles. And now here I am.
You both went to college in Philly. What was the best part about choosing Philly not only as a place to attend college, but as the city to launch your career?
Charisse: The best part about going to college in Philadelphia is the geographic location, plus it's the sixth largest market in the United States. I have found that there are opportunities here that just aren't as readily available in other parts of the state especially.
Jonathan: I love being a part of a city that not only has so much American history and international culture within itself, but is also so centrally located, allowing us to travel conveniently and quickly to other cities and destinations. New York, Baltimore, DC, the Poconos, Jersey beaches etc., are all places that we can choose to visit for personal or business reasons.
How have your college connections and Philly network helped to grow your brand?
Charisse: By being affiliated with two Philly colleges—Temple University 2003 (BS) and Saint Joseph's University 2021 (MBA)—I learned that the alumni networks combined are both wide and deep. Both schools have supported Lokal Artisan Foods from its inception and both schools continued to support and help me navigate the economic woes of the pandemic by sharing my story to the respective university communities.
Jonathan: My roommate from freshman year, Zach Waxman, has been in the liquor industry his whole life. He was the person to introduce us to the team at Ilegal Mezcal, who we then partnered with for a new roast we are releasing.
Joseph Gorman pushed us to do virtual cuppings with our founder, Obel Hernandez. We've built relationships with people around the city, both business and personal, and more often than not, they become intertwined. At this point, our Philly network is so vast, it covers every corner of the city.
There are many college students considering a path of entrepreneurship after they graduate. What's one piece of advice you'd give to someone who wants to follow a similar path as you?
Charisse: My advice is a little unorthodox as I do not set goals. Drake is one of my favorite rappers and in one of his early songs he says, "Do Right And Kill Everything" and that's what I've been doing since I took a leap of faith. Maximizing every opportunity has led to more opportunity.
The second piece of advice I would give is to know the difference between what you 'make' and what you 'sell'. We make French Toast Bites, but that's not what we're selling. By the time customers get to me, they have already passed at least 3 places to get some French Toast, but there's a reason they didnt go to those places and decided to stand in line for 20-30 mins for my French Toast Bites in the cold (or heat) and still take a picture before they take a bite.
Jonathan: Listen to everyone's advice, but do not take it all.
How can we get our hands on some French Toast Bites/Bean2Bean Coffee?
Charisse: Cherry Street Pier is the only place in Philly to get our full menu French Toast Bites, Vegan French Toast Bites, Bacon (on-a-stick!), Coffee (bagged & by the cup). Also, check out our website for online orders.
Jonathan: There are over 30 places in Philly you can get your hands on a cup of Bean2Bean. Check out our store locator here.
We offer next-day delivery to all campuses in Philly. You can get the entire line of Bean2Bean coffee and swag, at our website. Order your French Toast Bites coffee now and we'll bring it to your door by tomorrow. Want it within an hour? Add French Toast Bites coffee to your cart when you order on GoPuff.
2020, and already 2021, have shaped up to be great years for you both. What's next?
Charisse: Think, French Toast Bites Ice Cream…Yum!
Jonathan: We'd like to become the #1 destination for coffee media in the country.
How can students get involved with Lokal Artisan Foods and Bean2Bean this semester? Are you hiring for summer internships?
Charisse: I am interested in building out an Ambassador program for Lokal Artisan Foods (Home of the French Toast Bites) for local college students. Also, we are hiring this spring for a staff associate. Applicants should state their interest by emailing: [email protected]
Jonathan: We're looking for everything from Brand Ambassadors to SEO optimization to anyone with some outside-the-box marketing strategies. Wanna join the team? Let us know here and use the subject line "Hire Me!" Give us a few sentences about why you'd like to work at Bean2Bean.
What's next? Keep up with both brands! Check out their websites at Lokal Artisan Food and Bean2Bean Coffee Co. Also, follow them on Instagram @LokalArtisanFood and @Bean2BeanCoffee. Plus, don't forget to keep up with Campus Philly's #FoodieFridays for more features of delicious foods in the city!