"Wait, that looks so familiar!" It might be because that movie you love so much was shot right here in Philly! We set out to find locations in the City of Brotherly Love where some blockbuster movies were shot. Along the way, we discovered the magic of Hollywood editing, reenacted a classic scene, and got a pretty great tour of Philadelphia.
Bonus: We've included all the must-do activities at these locations! Keep reading to see where in Philly you can be a part of—and even watch—some legendary films.
Philadelphia Movie Tour! from Campus Philly on Vimeo.
---
National Treasure
Locations: Washington Square, Benjamin Franklin Bridge, The Franklin Institute, Urban Outfitters
It's only right that scenes from Nicolas Cage's National Treasure were shot in the historic city of Philadelphia. However, to our dismay, we found that some scenes were fabricated!
We visited Independence Mall and the Liberty Bell only to find out that these scenes were shot in Hollywood! However, the cast of National Treasure did shoot a few scenes in Washington Square, Benjamin Franklin Bridge, The Franklin Institute, and even Urban Outfitters.
The to-do:
Washington Square: Relax, picnic, and people-watch in the park
The Franklin Institute: Visit the many, cool science exhibits
---
Silver Linings Playbook
Locations: Lincoln Financial Field, Citizens Bank Park, Benjamin Franklin Hotel, Jeweler's Row
Philly native, Bradley Cooper, and his onscreen love interest, Jennifer Lawrence, visited Philadelphia and its surrounding suburbs to shoot the critically acclaimed Silver Linings Playbook. We visited Jeweler's Row, where the closing scene "chasing Tiffany" was shot—well, sort of.
Upon arriving, we discovered that Jeweler's Row wasn't safe from "Hollywood magic." Reenacting the chase proved to be a challenge as the Sansom Street on-screen differed from the Sansom Street of real life.
The to-do:
Lincoln Financial Field: Catch a Philadelphia Eagles or Temple Owls football game
Citizens Bank Park: Watch a Phillies baseball game
Jeweler's Row: Shop with the over 300 retailers, wholesalers, and craftsman
---
Rocky
Locations: Philadelphia Museum of Art, Victor Café, Pat's, The Italian Market, and many many more
We'd be remiss if we didn't talk Rocky, possibly the most iconic movie shot in Philadelphia. We visited the iconic "Rocky Steps" where I was too lazy to dart up as Rocky did. The Rocky Statue located by the bottom of the steps remains a tourist attraction.
The Rocky/Creed series is loved by Philadelphians for being a story of resiliency—which resonates with many here. Shooting in non-mainstream locations, but actual neighborhoods, helped ingrain the Rocky franchise into Philadelphia's culture.
The to-do:
Philadelphia Museum of Art: Explore the many art exhibits and/or trek the infamous steps
Victor Café, Pat's, The Italian Market: Indulge in Philly's iconic and historic food scene
---
The Sixth Sense
Locations: Grays Ferry Avenue, Pine Street, St. Augustine's Church
Another Philadelphia native and director of movies like The Sixth Sense, The Village, and Split, M. Night Shyamalan is notorious for filming in his hometown of Philadelphia. We visited St. Augustine's Church where Cole sought to seek refuge from all those dead people he was seeing.
M. Night also currently films his Apple TV series, Servant, in well-known Philadelphia neighborhoods such as Rittenhouse!
The to-do:
Pine Street: Photograph in front of (or of!) the aesthetically pleasing landscape and architecture
Rittenhouse: Dine and shop in Philly's luxurious neighborhood
Rittenhouse Square Park: Stroll, relax, picnic, and people-watch in the park
---
Where to Watch
Location: PFS Drive-in at the Navy Yard
Whether you prefer watching or experiencing, this is the activity for you! The Philadelphia Film Society, both the organizers of the Philadelphia Film Festival and of this weekly drive-in event, schedule showings of beloved movies at Admiral Peary Way and League Island Boulevard! Be sure to check their website for showtimes and updates, and to order your tickets in advance.
Where To Watch
Location: Cira Green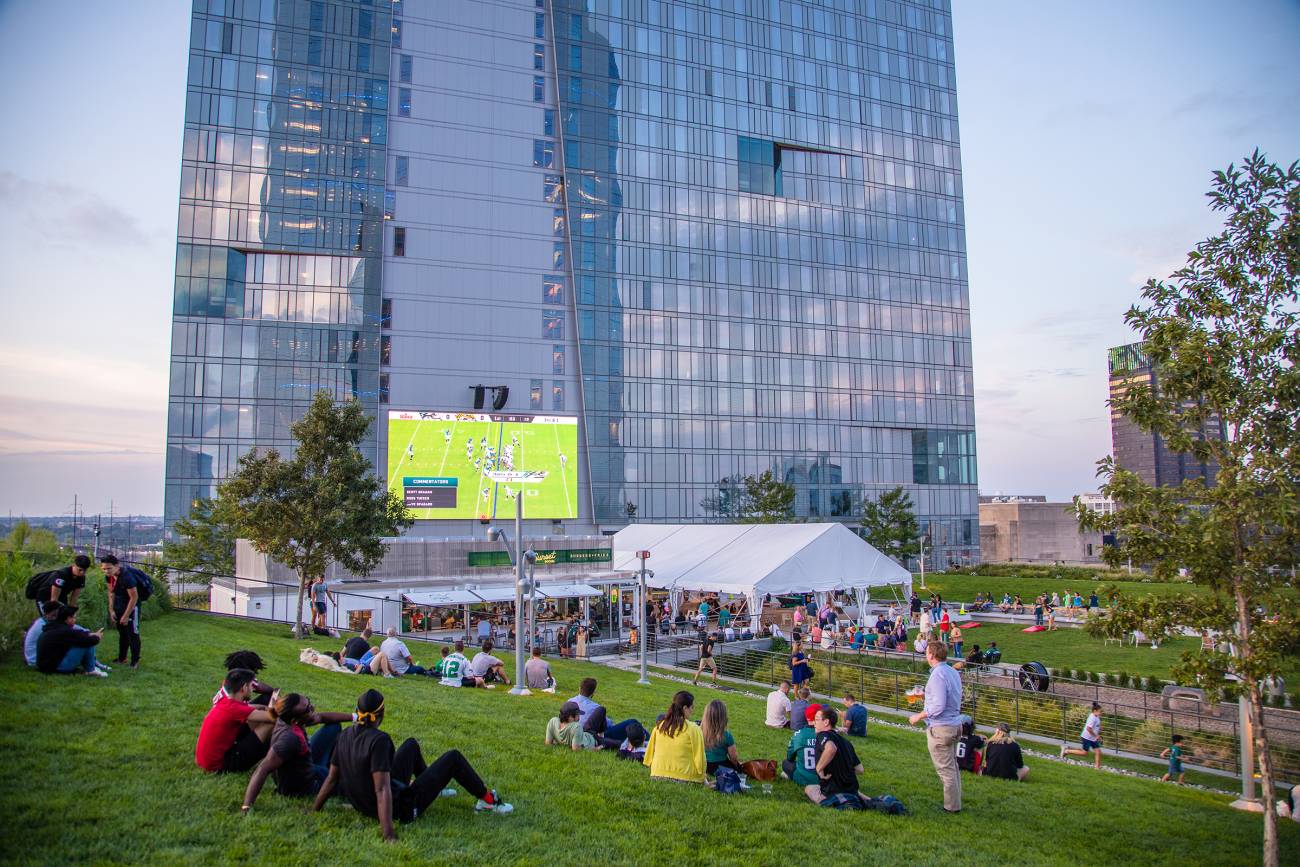 Cira Green is an iconic Philly location with an amazing rooftop view of the city. This summer, Cira Green is hosting FREE Wednesday movie nights every other week, now until October 13. Along with the great view, Cira Green also provides great snacks and drinks to purchase and enjoy while watching these movies. Films shown this summer include Guardians of the Galaxy, Spiderman – Into the Spiderverse, and Jurassic World! Movie screenings start at 6pm every other Wednesday.
The movie tour brought us to many different locations, spanning many neighborhoods. Of course, there's a ton of other movies like Philadelphia, Invincible, and Law Abiding Citizen, and TV shows like It's Always Sunny in Philadelphia that were/are also shot in Philly.
We may not be Hollywood, but that shouldn't stop you from getting out there and having your own movie tour or movie night!
For more Philly tour guides, follow us at @campusphilly on Instagram.