Welcome to our favorite city: Philadelphia!
In this year's edition of Campus Philly's Guide to Philly, you'll find mini neighborhood guides written by Philly-area college students and recent grads, all the deets on navigating the city and answers to your transportation FAQs, foodie tips from Philly's favorite foodies, exclusive student deals and discounts built for YOU, and so much more.
Explore Philadelphia
Neighborhood Guides
Check out these student-curated guides to our favorite neighborhoods in the city.
Rittenhouse
As told by Miles West, Temple University 2022
I'm a recently graduated Journalism major from Temple. In my free time, I enjoy sports, music, movies, and TV shows, plus exploring outdoor spaces in the city.
The Rittenhouse neighborhood is an aesthetically pleasing mixture of old-Philadelphia mixed with the city's rapid growth. This Center City highlight is a one-stop shop for just about anything you could need in the city.
Smack dab in the middle of the city, Rittenhouse is easily accessible through various modes of transportation. 15th/16th Street & Locust Street Station SEPTA station lands you in the epicenter of Rittenhouse's shopping district, while Indego bikes are plentiful in the area as well.
Kicking back and enjoying the sun at Rittenhouse Square is an ideal summer day for me. Usually, I stop by Barnes & Noble across the street to find a book, then I pick out a spot in the park to chill. The Philadelphia Institute Library is another great option for bibliophiles.
Quench your need for retail therapy on Walnut Street. Get the latest styles at stores like Anthropologie, Urban Outfitters and Lululemon.
Indochino offers a unique service with their tailored approach to custom suits, a convenient utility for college students transitioning to professional life.
Rittenhouse is not only for play though—there are plenty of ways to stay in shape in the area too. CKO Kickboxing offers discounted classes for students looking to get their burn on. Nearby Philadelphia Runner provides an all-encompassing analysis to keep their patrons in peak shape; not to mention the runs hosted by the club where students can socialize with fellow runners.
Parc Rittenhouse and Devon Seafood are some of Philly's most renowned fine dining experiences, where visitors can enjoy their meals with Rittenhouse Square Park as a backdrop. Rittenhouse Market around the corner can fulfill all your grocery shopping needs.
Art enthusiasts can enjoy University of the Arts-Art Alliance. Their monthly galleries put top-tier artists on display for free admission.
Bonus! Check out student discounts at Rittenhouse Printing Press, CKO Kickboxing, and Madewell!
Washington Square West
As told by Janice Jaison, Philadelphia College of Pharmacy 2025
Washington Square West is not just your typical Philly neighborhood. With a diverse array of restaurants, coffee shops, and stores, this area will never fail to keep you busy while you tour the city. For someone who's never been here, I like to describe it as sort of a "vintage Philly" mainly because of its clean and rustic aesthetic, rich with history.
If you're like me and pin-drop silence is not your ideal study setting, make yourself comfortable at Good Karma Café on 10th and Pine. They have amazing sandwiches, pastries, coffee, and organic-blended smoothies!
Philly Magic Gardens is one of the best Instagrammable spots in the city with its colorful mosaic walls that span across almost three city blocks.
Wash West is also packed with small businesses, one of them being Revival PHL. They have affordable home decor if you're looking to elevate your living space, as well as cute accessories, jewelry, and skincare!
Wax + Wine is a BYOB candle bar that you'll love if you're looking for a night out to relax and enjoy with friends. They have a selection of over 75 fragrances to choose from and each person gets to make two separate candles!
I can't play favorites when in comes to food places, so let me list a few places you definitely want to check out:
Wash West has so many awesome places, which also means tons of job opportunities and internships for students! For my friends in STEM, Washington Square West is home to two of the largest healthcare systems in the state, Thomas Jefferson University Hospital and Penn Medicine's Pennsylvania Hospital. Both places offer great openings for students and entry-level jobs for graduates.
The Gayborhood
As told by Jenna Downey, Temple University 2025
Philadelphia's Gayborhood is known as a hub of great food, shopping, and nightlife. This neighborhood is just one of the many reasons I love going to school in Philly. The culture this city was built upon creates new and unexpected experiences everyday. Between the dining and the culture, the Gayborhood will sure to be on your Philly must-do list! Here are some of my favorites.
Since the early 2000s, the dining experience has become a staple to Gayborhood culture. Lolita, the Mexican restaurant that was founded by Marcie Turney and Valarie Safran, inspired a trend of high-end restaurants to enter the area.
Photo credit: Jenna Downey
If you're starting your day in the area, Winkel will be sure to satisfy your brunch fix! Their menu consists of a variety of breakfast and lunch options including omelets, pancakes, and sandwiches—and everything else you could possibly want for brunch.
Monster Vegan is another great spot for some comfort food and cocktails. From sandwiches to pasta, this menu will be sure to satisfy your entire party while also being environmentally conscious! They also hold a variety of weekly events such as movie screenings, Sunday brunch, and "Weird Wednesdays."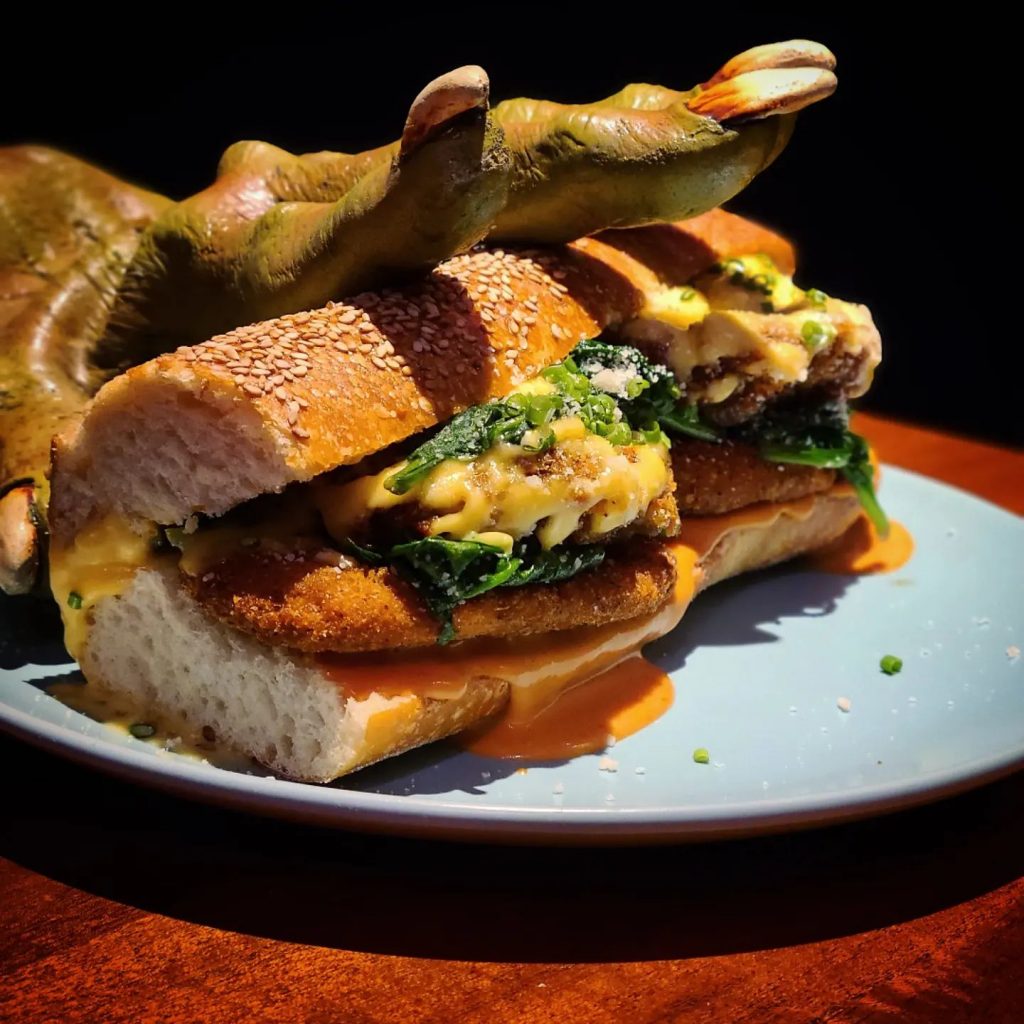 Photo credit: @monsterveganphilly
When you're craving something sweet, Sweet Box Bakery is a great place to stop by. They carry an assortment of cupcakes, edible cookie dough, cookies, brownies, and more! They are open seven days a week, and you can order through delivery.
The Gayborhood also features a variety of options for you to have a fun night out! Tabu Lounge & Sports Bar is a great place to attend a burlesque show or trivia night, or to watch the latest Phillies game.
For a more casual night out, Writer's Block Rehab provides a chill, book-themed atmosphere while serving unique cocktails that you'll be dying to take pictures of.
Let's talk shopping and iconic spots! Philly AIDS Thrift @ Giovanni's Room is the country's first and oldest LGBTQ+ and feminist bookstore. Initially starting out as a great source of new and used LGBT books, they have expanded to accepting donations for their thrift store. Their proceeds are donated to local organizations that are involved in fighting against HIV/AIDS. This is a great way to give back to the Gayborhood community!
As for iconic spots: The William Way LGBT Community Center serves the LGBTQ+ community through hosting social groups, networking events, counseling and support services, art exhibitions, and cultural experiences. They continue to strive to create new and innovative ways to support their community.
And, of course, be sure to catch a performance at the Walnut Street Theatre! As the oldest theater in the country, this is both a historical landmark and an opportunity to get a taste of Philly's arts that you won't want to miss.
Campus Philly Tip: Read our complete Guide to the Gayborhood for even more things to do and ways to explore.
Chinatown
As told by Sandy Ly, Temple University 2022
As a Philly native, I admittedly only started exploring the city when I began college. Chinatown started it all for me and gave me a piece of Philadelphia that felt like my own. It's a homey neighborhood for day-to-day hangouts or big celebrations. Every block you stroll down will be packed with hidden gems. I highly recommend supporting the local Asian businesses here especially as they recover from the pandemic.
Photo credit: Sandy Ly
For drinks, my favorite formal sit-down space is Prince Tea House. Their extensive range of teas and desserts plus their fancy decor and ornate tea sets make it an Instagram-worthy space for any get-together. For boba, my siblings and I always pop by Vivi Bubble Tea for their milk teas, popcorn chicken, and a chaotic game of Jenga. Sometimes I'll hop across the street for Tea Do's Zen's Awakening, an iced Vietnamese coffee and chocolate drink that my best friend introduced to me.
Photo credit: Sandy Ly
Dim sum is a staple celebration meal for me. My friends took me to Dim Sum Garden for their renowned soup dumplings, and we fell in love with their scallion pancakes as well. For a shy person like me, Nom Wah's ordering system makes it easy for anyone wanting to try dim sum. Instead of verbally ordering, you check off what you want on a piece of paper and the waiter will bring you each dish. Their ho fun (chewy fried flat rice noodles), turnip cakes, and pan-fried dumplings are my staples.
I'm Southeast Asian, so you know I have to throw some Vietnamese places in here because let's be real— we all have different names for almost the same dishes. Pho Cali is a bright space for pho (rice noodles) right on the edge of Chinatown. If it's too hot for steaming broth, I opt for a banh mi (Vietnamese hoagie) with refreshing pickled veggies and BBQ pork from QT Vietnamese Sandwich or Banh Mi Cali. And if it's an especially hot day, rolled ice cream from Frozen will make any trip 100% cooler.
West Philly/University City
As told by Taylor Sheppard, Drexel University 2024
Hi, I'm Taylor Sheppard! I'm a sophomore Interior Design major at Drexel University. I'm very passionate about the visual and performing arts, and I enjoy writing and gardening in my free time. I'm originally from Maryland, so I'm having a lot of fun discovering Philadelphia and trying new things. I really love walking around and marveling at the art in this city—from the murals, to the statues, to the buildings, it's just a fun place to be… especially in West Philly!
West Philly is a perfect place for college students and city lovers to have a good time. There's something for everyone here, and it's really easy to get around. If you like to walk outside, you can spend time walking along the Schuylkill River-Trail, or stroll through the vibrant greenery of Cira Green, Drexel Park, or Clark Park. (While you're outside, you should attend one of the events at The Porch at 30th Street Station, too!) If you'd prefer not to travel by foot, there are tons of SEPTA bus stops, subways, and rentable bikes that can take you anywhere you want to go.
Photo credit: @schuylkillbanks
Looking for somewhere to eat? West Philly's got you covered! The Board and Brew is a board-game restaurant which merges casual dining with the fun of tabletop games! Bring a few friends and enjoy their delicious chicken sandwich over a game of Candyland! For milk tea fans, there's Boba King and Kung Fu Tea, which offer delicious Asian snacks and drinks for your enjoyment.
There are also a few regular Farmers' Markets, like the University Square Farmers' Market every Wednesday, or the Clark Park Market on Thursdays and Saturdays. These events offer fresh, organic (and delicious!) foods from a community of vendors. Be sure to check them out!
If you're looking for indoor activities, you can find lots of cool museums to visit with friends. Personally, I'm a design student who's a big fan of the arts, so I love to take advantage of the wonderful art and culture in this region. For newcomers, I recommend that you visit the Institute of Contemporary Art for free, or head to the Penn Museum for a journey through historical objects. Both museums offer guests a unique and engaging experience, perfect for all ages.
For all the future actors and musicians, you can also attend one of World Cafe Live's incredible concerts, or visit the Annenberg Center for Performing Arts on University of Pennsylvania's campus. The Annenberg Center even has discounted rush tickets for students!
Fairmount
As told by Medha Gupta, Drexel University 2023
Fairmount is a great escape from the urban city life that Center City and University City have, with less gridded streets and much more nature to enjoy.
Photo credit: Medha Gupta
One of my favorite spots is Azalea Gardens located behind the Philadelphia Museum of Art. The flowers and shrubbery create an enclosure that makes it the perfect picnic spot. The Fountain of Sea Horses is a beautiful spot to take pictures as well! Walking down Kelly Drive a bit further, you can see some of the various public art pieces along the Schuylkill.
Another one of my favorite places to visit is the Shofuso Japanese House located near the horticultural center. During the spring, the Cherry Blossom Festival is one of the greatest places to enjoy nature without leaving the city. The live local music, food, and the tree lighting make it a unique Philly experience. Admission to Shofuso is $9 for students, making it a quick stop for a half-day adventure.
Campus Philly Tip: Check out Medha's half-day guide to exploring Center City and the Wissahickon!
For the adventurers, there's even a high ropes course located in the heart of Fairmount. You can maneuver through the trees and zipline between them all without leaving the city. There are multi-level courses and offer a student discount as well!
Photo credit: Medha Gupta
For a more indoorsy experience, The Mann Center of the Performing Arts is a wonderful place to experience local music and popular bands. The views of the Philadelphia skyline are stunning, and the open-air picnic grounds make it a great place to visit—even without going to see an artist.
Some of my favorite eats in Fairmount include Pizzeria Vetri for some fast-casual but delicious pizza, SOUTH for jazz music and southern food, and Umai Umai for sushi! Fairmount is full of culture, music, food, and nature which means that there's certainly something for everyone.
Old City
As told by Sydney Jack, Drexel University 2023
Hi, my name is Sydney Jack. I am a junior Entertainment and Arts Management major at Drexel University. I am originally from South Florida and moved to Philadelphia to pursue my career in the arts. I love all forms of art; movies, theatre, writing, music, and more. Since moving here for college, I have enjoyed exploring the city, especially Old City!
There are a ton of hidden gems to find in Philly, but nothing can match stepping into Old City. The cobblestone streets, unique shops, and of course, the historical sites. I remember my first time hanging out in Old City was with some friends who showed me all the great thrift shops and vintage stores up and down South Street. Since then, I'm excited to go back every time and discover something new.
Photo credit: @mikey_nappz for @meimeiphilly
The best Happy Hour I've been to was located on 2nd Street at Mei Mei. When I stepped inside, my jaw dropped. The ambient lighting and artwork along the walls are stunning. My friend and I shared our plates, which is definitely the recommended way to dine here.
But if Taiwanese food isn't your thing, then maybe Cuban food is! Across the street from Mei Mei is another fabulous restaurant, Cuba Libre. Cuba Libre provides an authentic experience, making you feel like you have just flown to Cuba. After eating here, I haven't stopped thinking about how good the food was. On top of that, they transform the space after dinner hours, and the restaurant turns into a dance floor!
Photo credit: Museum of Illusions
If you're looking for something to do before or after your dinner, I've got two art scenes you need to check out. First, the Museum of Illusions just joined the scene in Philly. On 4th and Market, you can step inside this interactive exhibit and have a guaranteed good time. There are plenty of games and silly photo opportunities to enjoy here.
Not to mention—there are so many more iconic museums and sites within walking distance like…
And then, of course, there's shopping. Every month the Liberty Flea Market has a pop-up event. They sell a wide variety of beautiful vintage and artisan products. Some of the most dope vendors in Philly will be at Liberty. The next one is at Cherry Street Pier, which is along The Waterfront (check out a full guide to The Waterfront below)!
Old City doesn't disappoint, no matter the occasion or time of day. There are endless spots to discover here, all within such a historic area.
The Waterfront
As told by Kayla Brown, Jefferson University 2024
I love The Waterfront because of all the possibilities available. You can tailor your plans to see, do, and explore whatever you want!
My go-to foodie spot is Philly Taco. They have the best Birria tacos, burritos, tostadas, and more. A lucky find you should definitely check out is the vintage arcade at Spruce Street Harbor Park! It's an iconic Philly spot, with food and drinks, great views, boardwalk games, and more.
If you're looking for an ideal study spot, I'd recommend Waterfront Cafe—beautiful views, too! The best part about The Waterfront is its walkability. All the parks on the Waterfront are walkable and nearby to one another, making is super easy to get around!
Queen Village
As told by Ellie Gallo, Saint Joseph's University 2024
Hi, I'm Ellie Gallo! I am a sophomore Entertainment Marketing major at Saint Joseph's University. I am originally from Hawthorne, NJ. I absolutely love Philly and exploring all of its beauty. I am so excited to get to share my favorite places to go with you!
Philadelphia is full of so many gorgeous neighborhoods and sites to explore. When I think of my favorite places to go in Philly, they're almost all in the gorgeous Queen Village neighborhood in South Philly. Here is my Queen Village neighborhood guide!
Doubling as a coffee shop and an art gallery, Chapterhouse allows for an experience to devour some delicious drinks and treats while viewing some gorgeous art all over the building. You can grab a sandwich or one of their tea lattes, and take a seat on the couch by the fireplace!
They have lots of vegan and gluten-free options as well, not to mention their assortment of Franklin Fountain ice cream flavors! As far as drinks go, I recommend the PB+C smoothie.
Travel back in time in this little shop full of so many treasures! Run by husband and wife Anastacia and Scott, Anastacia's is a goldmine of offbeat antiques. Anastacia and Scott might be my favorite part of the experience. They're the kindest people you'll ever meet, and they absolutely love what they do and every item in their store.
From old medical supplies to antique suitcases, this place is great if you want to get lost for about an hour. There is something new to see every time you visit! I personally love to look through their giant bin of old photos; all photos in the bin are $1 each. Every time I go to Anastacia's I feel like I've gone through a time portal to another century!
Mostly Books may look simple from the outside, but inside holds aisles upon aisles of used books in dozens of genres. From Crime Fiction to Astronomy, this place has literally any subject you're looking to read about.
Mostly Books is a must when my friends and I venture to Queen Village. Sometimes we find ourselves browsing the aisles for over an hour! My most recent find was Diary of a City Priest, which I am loving! If you find a book to bring home, make sure to grab a free bookmark by the register.
Campus Philly Tip: Foodies! Check out Emmy Squared in Queen Village for the best Detroit-style pizza slices, and all the cheesey-goodness to boot.
Fishtown/Northern Liberties
As told by Angela DiMarco, Saint Joseph's University 2022
Hi everybody! My name is Angela and I've been living in Philly the past four years as I studied at Saint Joseph's University. My friends and I love finding great places to hang out around Fishtown, so here are my top faves!
Añejo: This super cool Mexican restaurant in Fishtown has the BEST tacos! Taco Tuesdays have an awesome deal—$25 for BOTTOMLESS tacos (seriously, no limit on how many you can get!). The lamb barbacoa tacos are my favorite and the red sangria was the cherry on top of a yummy dinner.
Front Street Café: If you love brunch as much as I do then Front Street Café is the spot to go! They have a variety of options like eggs benedict (my favorite!), breakfast burritos, red velvet hotcakes (yum!), and so much more! They even have bottomless coffee.
All of their menus have inclusive options for gluten-free and vegan diets, as well as zero-proof cocktails, so this café is a must-go for everyone. The dinner menu is just as amazing as their brunch—the Stateside berry lemonade paired with the spicy fried chicken sandwich is my go-to!
Photo credit: @frontstreetcafe
Frankford Hall Beer Garden: Frankford Hall is a German beer garden in Fishtown and is a great spot to hang out on a sunny day with friends. There are so many drink options and delicious foods like Bavarian pretzels, frankfurters, and cheese boards. Enjoy these tasty treats while playing their table games and ping pong!
I hope you can check these places out! I make sure to bring friends and family to these spots whenever they're in town because the food, drinks, and fun never miss.
South Philly/East Passyunk
As told by Alana Aninipot, Temple University 2022
Hi! My name is Alana Aninipot and I'm a recent graduate from the Klein College of Media and Communication at Temple University. I majored in Media Studies and Production with a minor in Digital Media Production and a certificate in American Sign Language. 🤟
Here are my top picks for South Philly/East Passyunk!
South Philly is always a great spot to hang out and explore when I have downtime with friends! There is always something new to discover—from food and desserts, to shops and stores—while walking down East Passyunk Ave.
I like to take the SEPTA Broad Street Line to the Tasker-Morris stop and walk to the shops on East Passyunk Ave. For something different, I suggest stopping by ILLExotics, a boutique shop for plants and exotic pets. You can peek inside to see their frogs, lizards, chameleons, and exotics plants housed in their aroid conservation terrarium. For the Plant Parents, you can pick up some new plants here, too!
If you're like me, and don't have a green thumb but prefer to have your nose stuck in a book, stop by A Novel Idea on Passyunk for some great reads! This independent bookshop sells genres from historical fiction to horror, and you're bound to find something you'll love.
After some shopping, grab lunch at LaScala's Birria for some of the best Italian food! I suggest ordering the "GAAAHLIC" pie or a stromboli to share with a friend. Don't get too full or you'll spoil your dessert!
Speaking of dessert: You've gotta check out the extremely decadent Arctic Scoop Philly. Here you can build your own ice cream scoop with some interesting flavors and a tooth-achingly sweet array of toppings and drizzles. I'm a huge fan of Asian-inspired flavors so I suggest trying their Taro ice cream!
With your ice cream in hand, I suggest walking up East Passyunk Avenue to visit The Singing Fountain. Here you can enjoy your frozen dessert while sitting on a park bench—and enjoy people-watching!
And, of course, while you're in South Philly, check out a Philadelphia Phillies game at Citizens Bank Park! You can hop back on the Broad Street Line and go a few more stops to NRG Station, which lets you out right by all the iconic Philly stadiums (Lincoln Financial Field, Wells Fargo Center, and Citizens Bank Park!). Plus, student tickets are discounted through the Phillies "Student Steal" Program, which means you can see games all season long, for just $20.
Campus Philly Tip: Check out even more student deals and discounts in South Philly, with spots like Philadelphia's Magic Gardens, or plan a trip to the Italian Market on 9th Street for the freshest cheese, fruit, fish, and meat! Authentic eats abound in South Philadelphia—cheesesteaks included.
North Broad
As told by Kysha Brown, Arcadia University 2020
In the North Broad section of the city, you can find all types of gems that can fulfill almost any palette. My favorite things to do in this area are dining and exploring!
There are a ton of great restaurants in this section and a little stretch beyond. Here I've listed a few of my own special places that I like to frequent. All of these places are accessible by the Broad Street Line or the Market-Frankford Line, and local SEPTA buses.
Bold Coffee Bar is a POC-owned cafe that has coffee, pastries, and even breakfast burritos! My favorite thing about this place is how nice and welcoming it is on the inside and all the cool drinks that you can try. My recent indulgences are the Campfire latte and the 'Nutty Irish Men.'
Halal Fusion is a Black-Muslim owned resturant that has become one of my most talked about places from the first meal. Some faves are their lo-mein, rice dishes, and chicken wings with their special sauce. It's take-out only, but you'll want the comfort of your home after these platters so you can take a well-deserved nap.
The Colored Girls Museum is a memoir museum that honors the experiences, stories, and history of the "colored girl." I thought it was really beautiful inside and everything told such an amazing story. Get your tickets today; regular admission is $20, and student tickets are $10. Don't forget to whip out that student ID!
Libertee Grounds—AKA, where eating and mini-golf combine into one. Enjoy some food and drinks and then head downstairs into "The Grounds" to crush your friends in mini-golf. There's also a section with other games like cornhole, darts, connect four, and others—just in case you didn't want the fun to end there. It's only $10 per person for a game!
Lola's Sticky Fingers is a nice spot for hand-rolled ice cream and all kinds of treats such as fried birthday cake, ice cream sandwiches cradled between graham crackers or donuts. It's really a delight and a great way to end the day especially with the warm weather coming.
Manayunk/East Falls
As told by Matthew Shanahan, Saint Joseph's University 2022
I love Philadelphia for the history that is contained in the city. It is the birthplace of our nation and home of so many great museums and places to learn and relax. Manayunk is a great neighborhood to visit!
My favorite restaurant on Main Street is definitely The Goat's Beard. This venue is found on the corner of Main Street and Pensdale Street and is a great location to have a nice lunch, dinner, or bar date. While inside I had the pulled pork sandwich and their 'Acid Trip' IPA (21+) and both were delicious. Awesome place overall!
A Manayunk "hidden gem" you gotta check out is The Tubby Robot Ice Cream Factory. This spot has such a cute design and is filled with delicious and unique ice cream flavors!
My go-to outdoor space is definitely the Manayunk Canal. This boardwalk-style towpath has a nice view of the Canal and a path to run, walk, and bike.
Pretzel Park is another great spot, especially if you're looking for a good place to read or study outside. This small park is a quick walk from Main Street and welcomes you with a large statue of a pretzel! This space contains a dog park, playground, and a great view of the historic St. John the Baptist Roman Catholic Church.
And, of course, the best way to get around this area is simply walking! Manayunk isn't a huge neighborhood, so walking is a great way to see all that it has to offer, while taking in some fresh air.
Camden
There are so many hidden gems and things to explore in Camden, located in walking distance to many Rutgers University-Camden students! Plus, Camden is super accessible for Philly-area students, too, via PATCO—or just by walking or biking over the Ben Franklin Bridge.
Check out some ways to get around and hidden gems below!
Getting Around
You can take PATCO from Center City, with stops along Locust Street and at 8th and Market streets. PATCO rides on the Ben Franklin Bridge into Camden and the suburbs of Camden, Collingswood, Haddonfield, and Lindenwold. New Jersey Transit trains from 30th Street Station connect to Cherry Hill and Atlantic City, too (beach trip, anyone?).
Plus, you can get a FREE Freedom Card, A.K.A. your ticket to riding PATCO, with your student ID!
Download and print this coupon and present at the FREEDOM Card Service Center (Broadway Station) with your student ID, and receive one free FREEDOM Card. FREEDOM Card typically costs $5.00!
Take it from Wilmer Galvez-Hernandez, RU-Camden '23 Economics student: "In my free time, I like to jump on PATCO and walk around Philly, see the stores, eat good food!" -Wilmer Galvez-Hernandez
Speaking of food… let's talk about where to eat.
Where to Eat
Check out some of these go-to foodie spots!
Take it from Joanamary Chavez, RU-Camden '25 Criminal Justice student: "My favorite part about living in Camden is being able to be on the Rutgers-Camden Campus when class ends and then walking the Ben Franklin Bridge over to Philly to get some ramen!" -Joanamary Chavez
Things to Do
South Jersey
As told by Gus Van Walsen, Rowan University 2023
Hey! My name is Gus Van Walsen. I'm a rising senior at Rowan University studying Electrical and Computer Engineering with a minor in Physics! I spend a lot of my free time rock climbing, hanging out with friends, and taking care of my many house plants. I work part-time as a graphic designer and building manager for the Rowan University Student Center and am a class senator for the Rowan Student Government Association.
I love Philadelphia but as a New Jersey native and student at Rowan, I often find myself exploring all the vibrant South Jersey neighborhoods just outside of the city. If you're a student at a Philadelphia school, a day trip to New Jersey can be a much-needed break from the hustle and bustle of the city. Here are some of my favorite day-trip destinations for any students looking for a fun excursion to NJ!
Collingswood is the place to go for good vibes, good food, and great coffee. There's a fantastic variety of restaurants both big and small, so anyone can find something they like. My personal favorite spot is goodbeet, an all-vegan/vegetarian eatery with a rotating menu of plant-based foods. There's adorable outdoor alley seating, which makes this a perfect lunch spot, especially with summer right around the corner.
Some other great places to go include: The Tortilla Press, a restaurant with a delicious selection of Mexican, Central American, and South American-inspired dishes; The Pop Shop, a 50's inspired diner with unique deserts and classic diner staples; and Krispy Kreme, satisfy that sweet tooth with a favorite donut chain.
Can't forget about coffee, of which Collingswood has plenty. My go-to shop every time is the Endgrain Coffee Outpost, which makes a pretty mean oat milk latte. Grooveground is another coffee spot that features art for sale and some quick bites to eat in addition to their coffee.
Some other cool stops in Collingswood: Innergroove Records, Sabrina's Cafe, and Devil's Creek Brewery (21+).
Photo credit: @devils_creek_brewery
If you like to shop, then Haddonfield is for you! The main strip has tons of small shops and businesses to explore. Some of my favorites include Meraki Market, a plant and home goods store with a quiet and inviting atmosphere, The Spice and Tea Exchange, a great stop for a massive selection of unique teas, and Inkwood Books, a classic book store with tons of awesome staff picked readings.
Haddonfield isn't lacking in food or drinks either! If you're 21+ and a fan of beer, check out King's Road Brewing Company, a tiny corner brewery with a wide range of beers to choose from. If that's not your speed, right across the street is the William Heritage Winery Tasting Room, an upscale spot to try some fantastic New Jersey home-grown wine.
Some other cool spots in Haddonfield: Jersey Java & Tea Co., Cross Culture, and Crumb.
Plus, the PATCO train service makes it incredibly easy to travel to any of these New Jersey spots directly from Center City. Tickets for the train can be purchased at self-service kiosks in any station. And round trips to any of the New Jersey locations are just $6 or less!
Up Next: Philadelphia Hidden Gems
Hidden Gems in The Wissahickon
As told by Anthony Wagner, Rosemont College 2025
Anthony Wagner is a graduate student in Rosemont College's MFA program, studying Creative Writing. A passion for great storytelling has put him on the track to pursue the craft of novel writing. Anthony chose Philadelphia for the wide range of job opportunities and subtle but stunning mix of big city streets and Fairmount Park landscapes.
Tumbling through a busy week of work, writing, and classes, I find myself longing for a dose of tranquility that also gets me out of my house. I will always love the same destinations that draw crowds from all over Philly, but sometimes I don't need the masses. That's why I cultivated a series of hidden gems that are not too far off the beaten path!
The path to beautiful views of the Wissahickon Valley, comfy rock beds, and an up-close experience with the 150-year-old Toleration Statue is easy to access via Park Line Drive in Mount Airy.
Willam Penn's statue, which still represents the spirit of our country's origins, rests on a rock face that is 60 feet above the walking path below and provides a panoramic view of the creek bed and treed ridgelines, and is a go-to for rock climbers. Sitting next to a symbolic sculpture nestled in Philly's most beautiful natural landscape brings the world of art and nature together in a subtle but inspiring way.
Crick Beach
Crick Beach is another spot that provides me with Zen moments and has been a go-to for me since I pursued my Bachelor's at Drexel University. Like many nooks along the Wissahickon Creek bed, Crick Beach derives its name from neighbors and long-time trail hikers. One day, we learned the name after taking a path down from Forbidden Drive and stumbling onto the awe-inspiring beach situated at a sharp turn in the Creek.
We asked a bearded Gandolph-like figure with a walking stick and a backpack what to call this area of the Creek, and he corrected us, "It's the Crick, not the Creek. Crick Beach." No matter where you fall on the Crick vs. Creek debate, the stillness of the massive rock faces and soothing sounds of water tumbling around the curve will keep you coming back.
Once I enter the 48-acre bird sanctuary at Houston Meadows, I've stepped out of a time machine that arrived at a point in history where nature is as it was intended to be before the skyscrapers and stadiums. The lush grassy nolls and random rock benches offer stunning views of bird species that you want to capture on your phone and look up later. After a visit, you'll have dreams of fluttering feathers in vibrant greens, yellows, and blues flying through your lush patches of grass and flowers. It's easy to find parking at Houston Playground as well!
Hidden Gems in Center City
As told by Isabel Romea, Philadelphia College of Pharmacy 2025
Ever wanted to explore the hidden gems of Philadelphia? Philly is full of pop-up events and hidden spots that make every day more exciting than the last. Since the best part of exploring is the journey and not the destination, the pursuit of all of these goodies allows you to get a bang for your buck.
Photo credit: Isabel Romea
Kismet Bagels are some of the best bagels in the city. From classic bagels like plain and everything to more adventurous menu items like Fishtown Pickle Schmear, Kismet can fill your bagel cravings. The bagels can be found at locations including DiBruno Bros, Cafe Lift, Rally, Luna Cafe, and One Shot Cafe.
Kismet Bagels will soon be opening a brick-and-mortar store in Fishtown. The most exciting part of Kismet is their collaborations with Philadelphia staples such as Kalaya Thai Kitchen to create a crab rangoon breakfast sandwich. Follow their instagram @Kismetbagels to stay updated on all the eats!
Photo credit: Isabel Romea
Farmers markets are one of the best parts of summer with the abundance of fresh fruit and delicious baked goods. The Rittenhouse Farmer's Market sustains the spirit of fresh produce of the summer months all year long. The farmers market pops up in the square from 10am-2pm on weekends. Vendors include Beechwood Orchards, Davidson Exotic Mushrooms, and Wild Flour Bakery. Pick up some fresh produce to create healthy and affordable meals at home. An added bonus is an excuse to stroll around Rittenhouse Square and maybe even have a picnic.
Permanent Bracelet Pop Up – Angela Monaco Jewelry
Claspless bracelets are all the rage on TikTok. Angela Monaco Jewelry hosts a pop-up Thursdays from 2-6pm located at 2001 Walnut Street. These bracelets start at $50 and are a perfect date with your gal pals or significant other. Make sure to snag a reservation because this pop-up is super popular.
Photo credit: Isabel Romea
Philadelphia has recently upped their ice cream game with the opening of Jeni's Splendid Ice Cream in Rittenhouse and Fishtown; and Van Leeuwen in Center City. Are you looking for a bit more of an adventure? Milk Jawn is a small-batch ice cream producer using all local ingredients. Their menu features interesting flavors such as earl gray with honeycomb and chocolate hazelnut crunch. They even have a vegan flavor, Mango Sticky Rice.
The only obstacle between you and these delicious flavors is finding their pint sizes to take home. I would suggest checking them out at the East Falls Farmers Market or Riverwards Produce.
Photo credit: Isabel Romea
Craftsman Row Saloon always has a killer menu. Try their Dorito-crusted mozzarella sticks, french toast burger, or a milkshake (I highly recommend The Brotherly Love!).
Their decor changes with the season, too. This year they have decked out their place with both Christmas and Mardis Gras items. They even included menu specials for the season. Craftsman Row is a great place to share drinks with your friends, chow down on some adventurous eats, or take awesome Instagram pics. Follow their Instagram to stay updated on their specials at @CraftsmanRowSaloon.
Eat Like a Local
As told by Janice Jaison, Philadelphia College of Pharmacy 2025
If you've ever found yourself flipping a coin to pick a place to eat in Philly, you're not alone. It can be somewhat overwhelming to navigate Philly's vast range of food choices that reflect the city's diverse cultures. Whether you're looking for a quick pick-me-up after school/work or seeking fine dining across the city, I've got your back with this mini food guide!
North Philadelphia
Cafe la Maude in North Philadelphia will be your go-to brunch spot once you visit this gem. Serving French & Lebanese inspired dishes, this restaurant has the ambience of a Parisian cafe. They offer a variety of dishes, both sweet and savory, with each platter being more than enough to fill you up. I feel as though they can never go wrong with their eggs, whether it's a benedict or your traditional omelet. Their options of cold or hot tea and coffee top off the repertoire of treats, not to mention that they are also BYOB!
Photo credit: Janice Jaison
Northeast Philadelphia
Cafe Michelangelo, located in the Somerton area of Northeast Philly, is not your average Italian restaurant. The outdoor seating in this restaurant was my favorite as it features a large patio space below grapevines. There is a variety of food to choose from including dry/fresh cut pastas, pizzas, salads, sandwiches, and more. In addition to the awesome food, the live band performances are sure to elevate your dining experience!
Photo credit: Janice Jaison
Center City
If you're in need of a quick food run while exploring Philadelphia, Honey Bee Gourmet Deli on the corner of 11th and Spruce is the right place. They serve fresh gourmet sandwiches, salads, paninis, and more, while also selling groceries and other food on a small scale. My personal favorite is the Chipotle Chicken Panini with Chipotle chicken, Chipotle gouda, Chipotle mayo, tomato, and avocado. In a rush? You can also preorder on their website and pick up your order in as fast as 20 minutes!
Nine Ting is truly a hidden gem in Philly by bringing the Eastern Asian Cuisine to the West. They offer all-you-can-eat Korean Hotpot and BBQ options at an affordable rate, starting off with a hot tasty broth then moving on to the BBQ grill at your own table. Order whatever you want and prepare your food at your own pace by using various ingredients and sauces with your meat.
Photo credit: Janice Jaison
Looking for dessert after a nice Hotpot and BBQ at Nine Ting? Walk across the street for Mango Mango, one of the best places for desserts. Mango Mango, an instant hit in Chinatown, New York City, found its way to our very own Chinatown in Philadelphia. They are known for their handmade desserts, blended drinks, and delicious fruit teas. This two-floor cafe is guaranteed to win your heart with its wide variety of mango desserts along with several other flavors to satisfy your sweet tooth.
Photo credit: Janice Jaison
West Philadelphia/University City
Hidden behind West Philadelphia's 40th Street Trolley Station, Renata's Kitchen is the perfect place for brunch, lunch, or dinner with both indoor and outdoor dining. Enjoy a nice Mediterranean-style cuisine with a glass of refreshing rose hibiscus tea (my personal favorite!) in its vibrant, yet mellow atmosphere. One of the best times to visit is during the spring and summer months because you can view the nice greenery outside.
Getting Around
SEPTA is Philadelphia's local transit agency, responsible for Regional Rail, subways, buses, and trolleys. SEPTA connects Center City with the surrounding neighborhoods and suburbs as far north as Trenton, New Jersey and south as Newark, Delaware.
Here's what you'll need to ride the system:
SEPTA Key is a reloadable, contactless chip card that offers a host of options for seamless travel on all SEPTA modes and the self-serve flexibility of loading/reloading SEPTA fares to match your travel needs. You can load money onto the Travel Wallet (to pay as you go) or you can load a daily/three day/weekly/monthly pass. SEPTA Key cards are available at SEPTA Sales Offices and Fare Kiosks. Fare Kiosks can be found in all Broad Street and Market-Frankford Line Stations, at Bus Loops, at Center City Regional Rail Stations (Temple University, Jefferson Station, Suburban Station, 30th Street Station and Penn Medicine Station) and at the Airport. Kiosks accept cash, credit, debit, tokens, Apple Pay, Google Pay, & Samsung Pay. Best part— you can reload your SEPTA Key online at SEPTAKey.org.
Speaking of the SEPTA Key… Did you know that you can get so. many. deals and discounts with your SEPTA Key? Check out our SEPTA Perks series on TikTok for all the deets!
Quick Trips (single-ride tickets) are also available for the Market-Frankford Line, the Broad Street Line, and Regional Rail from Fare Kiosks. Cash is accepted on buses and trolleys – must use exact change. Cash and credit cards are accepted on Regional Rail. For more information, visit ISEPTAPHILLY.COM/key.
Additional ways to get around.
Biking is an inexpensive and popular way to get around quickly. Indego, Philadelphia's bike share system, offers monthly memberships and single rides. Check out bicyclecoalition.org/resources for safety tips, maps and favorite routes on the Circuit Trails—our regional trail network—plus information on taking your bike on the bus or train.
You can take PATCO from Center City, with stops along Locust Street and at 8th and Market streets. PATCO rides on the Ben Franklin Bridge into Camden and the suburbs of Collingswood, Haddonfield and Lindenwold. New Jersey Transit trains from 30th Street Station connect to Cherry Hill and Atlantic City.
Walking! There's no better way to get to know the city and discover hidden gems. Look into taking a guided walk tour with your friends; you'll learn and see a lot.
Learn more about getting around town (or leaving town!), with Campus Philly's Getting Around page.
Student Deals & Discounts
Your student ID is your all-access pass to free and discounted admission to events, museums, and activities across the city! Check out some of our recommendations below.
Photo credit: Eastern State Penitentiary
For the museum-lovers…
Photo credit: The Philadelphia Orchestra
For the music-lovers…
Photo credit: Blue Cross RiverRink
For the explorers…
View our full list of Student Deals & Discounts, and keep up-to-date on the latest Philly events, activities, and things to do with the Campus Philly Calendar!
Black-Owned Businesses to Support Year-Round
Compiled by Campus Philly Brand Ambassador, Autumn Vilches-Cruz, Rutgers-Camden 2023
Hi, I'm Autumn Cruz! I'm a graduate student pursuing my Masters in Social Work at Rutgers University! I am super passionate about mental health, and I'm always looking for a reason to explore the city for new restaurants to eat in.
With the city of Philadelphia being as diverse as it is, here are some of the best places around town to support Black-owned Businesses year round!
Love to dance? This Chestnut Hill boutique dance fitness studio offers in person, online, and on-demand classes for people who love to dance. Owner Bria Hodge offers everything from Zumba, HipFit, and Tone Zone, to DanceFit!
Owner Faheem Alexander, a stylist of over 25 years, is an expert known for his styling, hairline correction and beard grooming. He even has some celebrity clients, such as Tracy Morgan, Rick Ross, and The Roots!
Patrice Banks, engineer turned mechanic, has established the city's first and only women-run garage. Next door, she opened Clutch Beauty Bar, serving up manis, pedis and waxing services!
Sisters Nakia and Taahirah Stith, owners of this Rittenhouse Square apothecary, sell plant-based remedies in the form of lattes, smoothies, tonics, teas, and tinctures. This sister duo has a remedy for all of your needs!
This South Philly based business combines quality fashion in conjunction with modern designs, all through the lens of social justice.
Founded in 2018, owner Marques Davis sells unique, hand-poured candles with a variety of scents, pillow sprays, and body butters! Fun scents include white tea and ginger, grapefruit mimosa, lavender clouds, and peppermint and cocoa.
Kimberly McGlonn prioritized three things when starting her business in 2017: sourcing reclaimed fabrics, manufacturing exclusively in Philadelphia, and supporting incarcerated and returning citizens. Visitors of Grant Blvd can score casual joggers, elegant skirts, color-blocked jackets and attention-grabbing, organic cotton T-shirts!
D'Iyanu carries a co-ed line of ready-to-wear, bold print and African-inspired blazers, pants, scarves, maxi dresses, skirts and jumpsuits. Owner Addie Elabor, along with her brother Dara Ajayi, founded and branded their company by using a combination of the words "miracle" and "wonderful" from their native Yoruba language.
Located on Frankford Avenue, this is the East Coast's first African American woman-owned comics shop! This location has something for everyone, ranging from Marvel, DC and self-published books for grown-ups, kids and everyone in-between!
Black Soul Vintage is an online & in-person second-hand marketplace that intends to uplift and amplify African descendent history, through black text, ephemera, art and home goods that inspire an afro-centric lifestyle, while also promoting sustainability through preservation and re-use!
There are so many businesses to support. From fitness, to fashion, to fun, and all things in between. Make sure to check out these Black-owned businesses all year round!
Campus Philly Resources
The Campus Philly team produces so. many. resources. each semester—all with you in mind. Looking for a job or internship? Want the latest career advice? Need some financial assistance? We've got you covered. Check out our most-popular resources below, and click on each one to learn more!
So, whether you're exploring Philly's hidden gems, strolling around in your new favorite neighborhood, or eating your way around the city, Campus Philly is here to support you—so let's keep in touch this semester.
Follow us on Instagram or sign up for our newsletter to stay updated on all things Philly, AKA: the best city ever to be a college student!