Piper Loebach is a Junior at the University of the Arts studying Musical Theater and Directing, Playwriting, Production. Outside of school, Piper loves fitness, writing, traveling, skiing, and exploring Philadelphia! On the weekends, you'll find her at the Rittenhouse Farmers Market, Philadelphia Museum of Art, on long walks around the city, or hanging out with friends.
This is her guide to the best study-friendly coffee shops in Philly!
Guest-written by Piper Loebach
When I moved to Philadelphia as a freshman in college, I didn't know the city at all. The opportunity to live right in Center City largely contributed to my decision to study at the University of the Arts and it is still one of the many reasons I love it today! In an effort to explore, learn about my new neighborhood, and support local businesses, I made a plan to study in a different coffee shop every Sunday. The result? A pretty great mental map of Philly and extensive knowledge of the most trendy and study-friendly cafes.
Here are some of my favorites… 
Photo Credit: Elixr Coffee Roasters
1. Elixr Coffee Roasters 
Neighborhood: University City & Center City 
Serving up carefully sourced and roasted coffee in aesthetically pleasing light pink cups, Elixr is a great place to get some work done.
You have to try… the Iced Strawberry Milk Latte. A Strawberry and Beetroot Oat Milk Latte with your choice of matcha or espresso on top! This drink is colorful, sweet, and a necessity for springtime study sessions.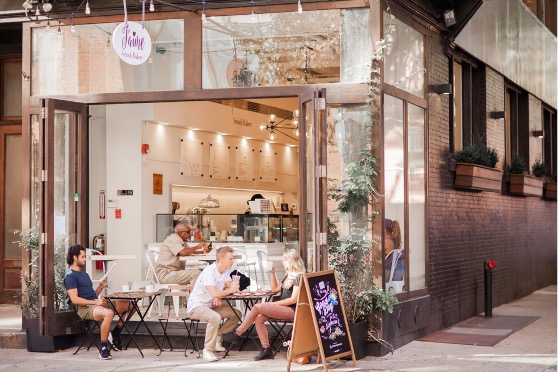 Photo Credit: jaimefrenchbakery.com
2. J'aime French Bakery 
Neighborhood: Center City 
J'aime's chef and owner grew up making crepes and attending pastry school in France! With gorgeous ceiling to floor windows and a bright interior, J'aime is the perfect place to settle in for an afternoon. Not to mention their pastries truly taste just as incredible as they look! 
You have to try… the Nutella Banana Crepe! Every crepe is made fresh when you order it and brought to your table dusted in powdered sugar! 
Photo Credit: Good Karma Cafe
3. Good Karma Cafe
Neighborhood: Schuylkill Banks (near University City), Center City, Society Hill, Fitler Square
Good Karma Cafe has locations all over Philly, and for good reason too. With ample seating and a cozy atmosphere, it's a great place to study (I'm writing this article in a Good Karma right now!)
You have to try… Everything on the seasonal menu (every single season). I'm currently loving the Rose Chai and Blueberry Matcha!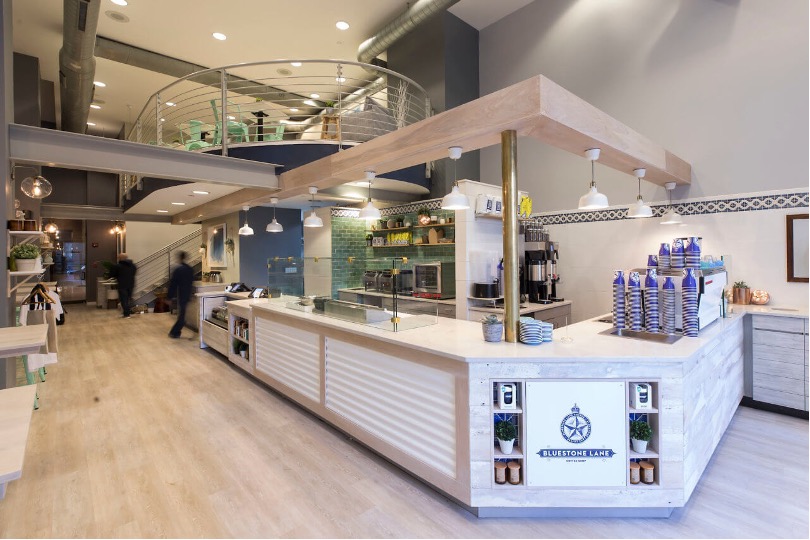 Photo Credit: Bluestone Lane
4. Bluestone Lane Cafe 
Neighborhood: Center City & Rittenhouse 
An australian-inspired cafe serving healthy beverages & eats! Enjoy a coffee, meal, or smoothie while getting your work done in a bright and beautiful space. 
You have to try… one of their Wellness Lattes! I love the Golden Latte with Turmeric. 
Photo Credit: Chapterhouse Cafe & Gallery

5. Chapterhouse Cafe & Gallery  
Neighborhood: Bella Vista (just south of Center City) 
Chapterhouse is the ultimate study spot thanks to its size–there are about five rooms filled with seating options! Enjoy beverages and pastries while surrounded by the work of local artists.
You have to try… one of their delicious hot chocolates! They have ten unique variations of the warm beverage and it is genuinely the best hot chocolate I've ever had. My favorite is Peppermint! 
Photo Credit: Saxbys
6. Saxbys 
Neighborhood: North Philly (near Temple University), University City, Center City 
Saxbys can be found all over the city, but it's a particularly great option for students at Temple University. Whether you're getting homework done or meeting up with a study group, Saxbys is the place to go.  
You have to try… the Mocha Cold Brew. Or any of their other fun cold brew variations! 
7. Ultimo Coffee
Neighborhood: Rittenhouse & Graduate Hospital 
Lots of tables, cute interior, delicious drinks… What more could you ask for in a study space? They also donate 5% of their net profit each quarter to an organization they are passionate about. You can enjoy your latte knowing that you're doing a little bit of good for the world! 
You have to try… the Chai Latte. It's pretty amazing. 
Photo Credit: Green Line Cafe
8. Green Line Cafe 
Neighborhood: University City 
Green Line Cafe is a great place to grab lunch and study with a friend! Their food and drink menus are both extensive and there is plenty of room to sit and work! 
You have to try… the Moroccan Mint house-brewed Iced Tea! 
I hope this guide will introduce you to a part of Philly you've never explored—and your new favorite coffee order. There's nothing like motivation in a mug to get you through a study session! 
***
Do you have content that you want to share? Apply here to join our Campus Philly Brand Ambassador Program—applications are open on a rolling basis!
Plus, stay up-to-date on all things Philly with Campus Philly's Instagram and TikTok; you'll never miss an announcement of a new post from our awesome community (AKA: you!).