Beach Haven, NJ — Image via Long Beach Island
This year's Guide to Philly features neighborhood guides written by students and recent grads. In this mini-guide to South Jersey, we cover things to do, places to eat and everything YOU need to know to enjoy the neighborhood!
As told by Addison Gallagher, Rutgers 2022
I'm from (and am an avid fan!) of the Jersey Shore, and went to Rutgers University, graduating in 2022 with two degrees in journalism and political science. My name is Addison and I currently work as a Broadcast Associate for CBS Evening News with the goal of becoming a head producer, but writing will always have a special place in my heart!
When you hear of South Jersey or the Jersey Shore, the default image you picture may be relative to a certain MTV show. And while that's a fair connection to make—that show was extremely entertaining, albeit not a great look—the shore has many more amazing locations: one of those places being Long Beach Island. It's a great getaway from Philly, especially for busy college students seeking a change of pace.
On its own slice of land, the 18-mile town is home to various neighborhoods, all with different things to offer visitors while sharing the same kind of feel that you would see in a picturesque summer movie. There are activities for all ages. As a younger person, who recently graduated from Rutgers University, I appreciate the nightlife and dining scene, but love even more the bagel on the beach the next day.
If you're taking a trip down to the island, there are a couple of sites to definitely hit. The first, of course, is "Old Barney." The Barnegat Lighthouse, at the northern tip of the island, has a rich history, with its development beginning in the 1800s. It stands at 169 feet, and even if you aren't a history buff, the climb up to the top is undoubtedly worth it, giving you a view of the water, the lighthouse park, and beyond. If you have a climbing partner along with you, it could serve as a great photo-op, as well.
Admittedly, my favorite area to hit is Beach Haven, and more specifically, the social scene it boasts. In the span of three brick blocks, you can hit Bay Village, Schooner's Wharf, and, if you're up for it, the amusement/water park, Fantasy Island.
Schooner's Wharf is an elevated, aesthetically beautiful development built from an actual old ship. The small stores range from independent bookstores to boutiques and everything in between. Even if you aren't looking to spend money, walking around and watching the sunset from Schooner's Wharf is definitely worth checking out!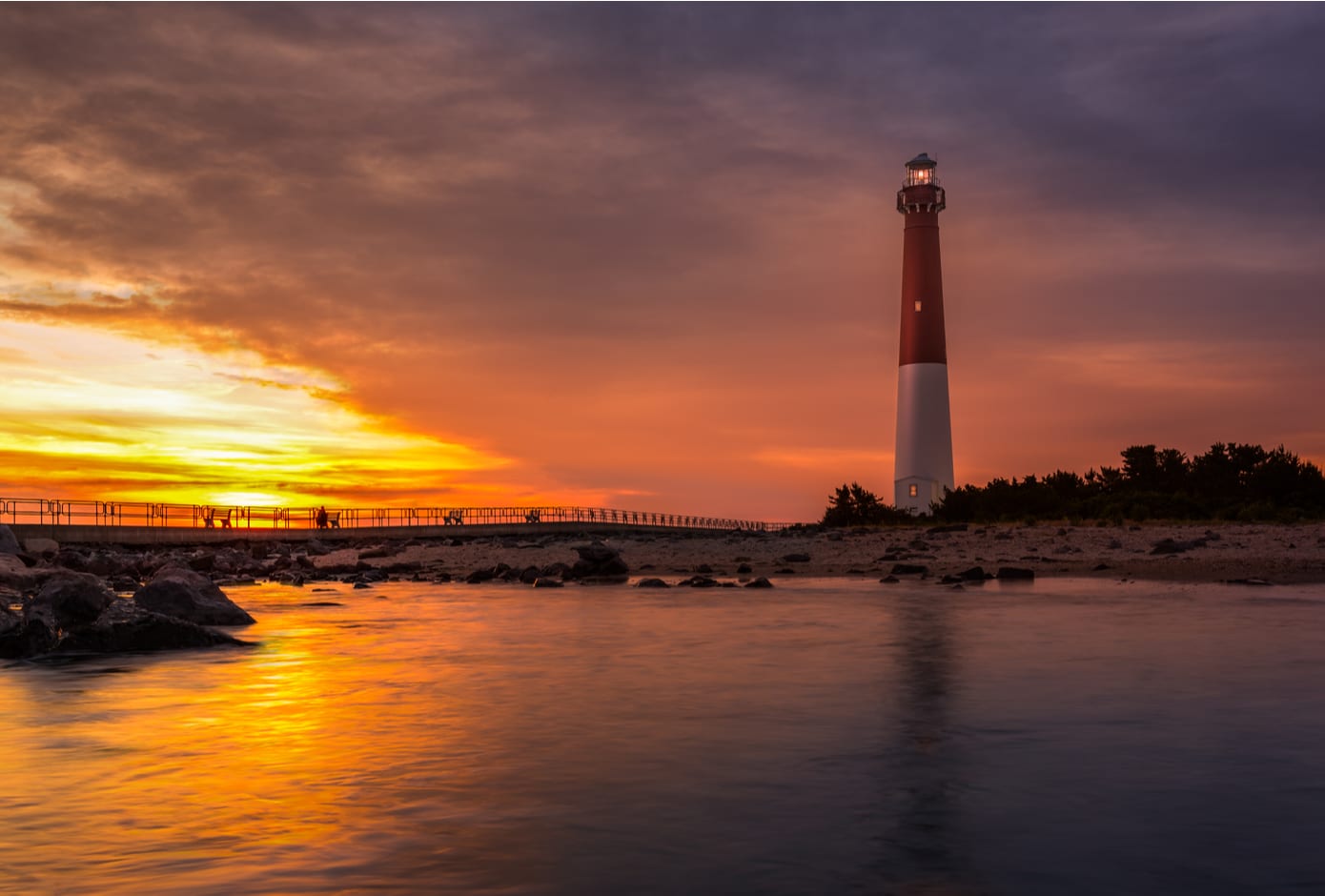 Bay Village, across the street, is another series of stores and places to eat. It's home to one of, if not the most famous, places from the island—Country Kettle Chowda. Seafood is really popular on the island, and this place is the pinnacle of that! The chowder is a staple of the island, and the best thing to order is a New England clam chowder in a bread bowl (so good, you'll eat the bowl!). If you do anything in LBI, let it be this. Thank me later.
However, ultimately, the best part of LBI is the beach—so get down to it whenever you can!
***
Read the FULL guide to Philly with more neighborhood guides, student deals and discounts, foodie picks, and MORE! Check out our latest Guide to Philly here.