Photo credit: Visit Philadelphia
This year's Guide to Philly features neighborhood guides written by students and recent grads. In this mini-guide to Ambler, we cover things to do, places to eat, and everything YOU need to know to enjoy the neighborhood!
As told by Ashley Radell, Saint Joseph's University 2024
Hi! My name is Ashley Radell, and I am a rising senior at Saint Joseph's University. I am a Food Marketing Co-Op major with a minor in Communications, and I am also the Student Engagement Coordinator intern here at Campus Philly! I love getting off campus to explore the city, mainly in the form of trying out new restaurants and finding new scenic routes for my runs/walks.
As a proud Ambler local, I love sharing this hidden gem right outside the city. Ambler is a picturesque town in the suburbs just outside of Philly. Despite its charming small-town feel, Main Street's abundance of options for entertainment, shopping, and dining make it feel like a very scaled-down version of Philadelphia. Take the SEPTA Regional Rail on the Lansdale/Doylestown line right into the Ambler station for a nice getaway from the hustle-and-bustle of everyday city life.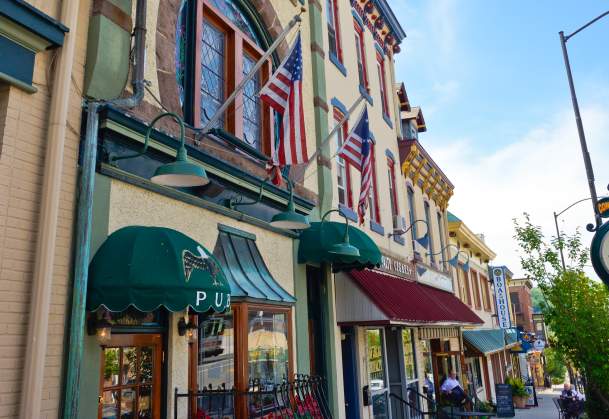 When planning a visit to Ambler, it's best to shoot for the most-anticipated event of the month: First Friday! On the first Friday of every month from May-October there is live music on Main Street and special deals and offerings at restaurants. Follow up a Friday night on the town with a visit to the Farmers Market hosted every Saturday and Sunday morning for some fresh and local foods!
The "icon" of Ambler is the Ambler Theater, a movie theater with a flashy exterior and a quaint, charming feel on the inside. Their screenings range from everything like blockbuster new releases to throwback iconic films, making it the perfect spot for anyone's movie preferences. They even offer a "young person" discount for $11 movie tickets!
Be sure to check out one of the best spots in Ambler: Tannery Run Brew Works. This brewery/restaurant serves up some of the best bites and beer (21+) brewed in-house (my personal recommendation is to try the BBQ flatbread & Mild Horses beer). If you're anything like me and are a trivia nerd, be sure to come here on Wednesday nights for the 7 o'clock weekly game. Follow up the meal here with something sweet from the ice cream window at Sweet Briar Ice Cream for the perfect night!
With any small town, the best way to get around Ambler is simply by walking. Charge up with a visit to Backyard Beans for some caffeine, and walk up and down main street for the full Ambler experience.
A couple of spots to for sure hit include:
***
Read the FULL Guide to Philly with more neighborhood guides, student deals and discounts, foodie picks, and MORE! Check out our latest Guide to Philly here!