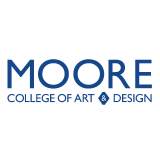 Moore College of Art & Design educates students for careers in art and design. Founded in 1848, Moore is the nation's first and only women's visual arts college for undergraduates. The College's career-focused environment and professionally active faculty form a dynamic community in the heart of Philadelphia's cultural district, surrounded by world-class museums. The College offers ten Bachelor of fine arts degrees for women and four coeducational graduate programs. In addition, Moore provides many valuable opportunities in the arts through The Galleries at Moore, Continuing Education Certificate programs for professional adults, the acclaimed Young Artists Workshop, The Art Shop and Sculpture Park.
Moore College of Art & Design's BFA students in all majors have the opportunity to experience out-of-classroom field trips that expand their knowledge and hone their skills. Encounters with work at museums and other venues in Philadelphia, New York City and Washington, DC, provide rich, life-changing experiences for them. Each year, first-year Foundation students take a trip to New York City to see the city and to observe and sketch the work within the Metropolitan Museum of Art. This inspiring and educational video documenting an October 2, 2014 trip demonstrates the impact these outings have for Moore's students.
Follow Moore on Facebook, Twitter, Pinterest and Instagram
Graduate Studies
[email protected]
215.965.4016
Continuing Education & Young Artists Workshop
[email protected]
215.965.4030
The Galleries at Moore
[email protected]u
215.965.4027
BFA Programs
Moore's BFA programs are designed to cultivate each student's creative talents, and provide the technical and professional skills essential to building a successful career in the visual arts. Students learn from award-winning, professionally active faculty who bring real-world knowledge and expertise into the classroom and encourage excellence, creative exploration and self-expression to prepare students for lifelong learning and leadership in their chosen field. Moore also offers its students an array of minors that complement their course of study and allow them to advance their interests in support of their artistic and professional goals. Majors include: Art History, Art Education, Curatorial Studies, Fashion Design, Fine Arts, Graphic Design, Illustration, Interactive & Motion Arts, Interior Design and Photography & Digital Arts.
Career Focus
94% of Moore's 2014 BFA graduates are employed or attending graduate school, 87% are working in their fields of study! Moore is the only art and design college in the US that offers paid internships for every student, providing hands-on, real world experiences for its students with local and national businesses and, on occasion, at locations around the world. The Locks Career Center is an invaluable College resource providing important support services to BFA students and alumni, graduate students and students completing certificates in Continuing Education as they pursue their career paths during college, in the transition to the work world after graduation, and throughout their professional lives. Experienced Career Center staff provide resume advice and career coaching, assistance in internship preparation, help with networking skills and job searches, access to valuable career information and resources, and exposure to industry best practices to ensure their professional development as artists and designers, and enhance and improve their employment opportunities.
Graduate Studies
Distinctive in its integrated, intimate approach to advancing today's visual art landscape and the field of art and design itself, Graduate Studies at Moore seeks to connect and educate artists of all walks of life united by their creative purpose. Programs in Social Engagement, Community Practice, Studio Art and Art Education with an Emphasis in Special Populations prepare motivated men and women with the skills, knowledge and resources to become professional artists, designers and teachers. Made up of select students, faculty and staff, we test, perfect, invent and forever alter art practices and policies on a local and global scale. The low residency graduate programs offer summer intensive, evening and weekend year-round scheduling combined with online courses, making them well suited for working adults seeking to acquire new skills and perspectives.
Continuing Education
Moore is uniquely suited to help you achieve your goals for personal and career development. With a legacy of educating students for careers in art and design, Moore is the only professional college of art and design in Philadelphia specializing entirely in the visual arts. An impressive roster of instructors is noteworthy for outstanding professional expertise and proven commitment to teaching. Moore's Certificate programs concentrate on providing adults with an efficient way to move their career forward in a select group of especially rewarding design fields. They offer the opportunity to develop expertise in a specific professional area within a manageable time commitment.
Young Artists Workshop
Young Artists Workshop students connect with and expand their creativity with others who share the same interests in a beautiful campus setting along the picturesque Benjamin Franklin Parkway. The program, founded in 1921, maintains a rich legacy of offering exceptional art and design educational experiences for youth and high school students in grades 1-12. Young Artists Workshop provides a strong grounding in the visual arts and encourages artistic and personal growth through inventive self-expression. Classes are offered year-round – on Saturdays in the fall and spring and on weekdays during the summer.
The Galleries at Moore
The Galleries at Moore support Moore College of Art & Design's educational mission and role as a cultural leader by providing a forum for exploring contemporary art and ideas, and enriching the artistic climate and intellectual climate of the college, the Greater Philadelphia community, and beyond. As a gateway between the College and the city of Philadelphia, The Galleries are a catalyst for creative exploration, experimentation and scholarship and function as a gathering place to meet, reflect, learn, challenge and create. The Galleries' exhibitions and programs – which are all free and open to the public – create community through dialogue and participation, and inspire an appreciation for the visual arts as a vital force in shaping contemporary culture.